Hawke 501/453 Univ Hazardous
Flameproof, Increased Safety, Dust Protection & Restricted Breathing. Certified ATEX / IECEx / c CSA us
Kabel gland explosion proof, untuk kabel tipe armor Steel Wire Armour (SWA) atau braided armor .Berbahan brass nickel plated finishing. Deluge Protection to DTS01
Made in UK.
Tersedia dalam berbagai ukuran sesuai dengan kebutuhan anda, m20 sampai dengan m100 atau ½" npt sampai dengan 4" npt thread.
M20 M25 M32 M40 M50 M63 M75 M90 M100
½" NPT ¾" NPT 1" NPT 1 ¼" NPT 1 ½" NPT 2" NPT 2 ½" NPT 3" NPT 4" NPT

Bagikan: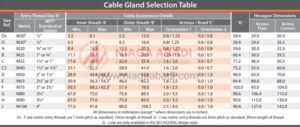 Niaga Abadi Hawke 501 453 UNIV Sizing Chart
The 501/453 Universal Cable Gland is dual certified Exe/Exd, robust and for use with single wire armour 'W', wire braid 'X', steel tape armour 'Z', elastomer
and plastic insulated cables. For particular use with cables that exhibit 'Cold Flow' characteristics. This cable gland is the first and only cable gland
capable of being upgraded to a barrier type solution in the field. see below for more details. See technical section for installation rules and regulations.