Hawke 151 RAC Industrial
Industrial gland for indoor or outdoor use
Industrial kabel gland untuk kabel armored steel wire armor (SWA) atau braided armor, single compression seal, berbahan brass nickel plated
Made in UK.
Tersedia dalam berbagai ukuran sesuai dengan kebutuhan anda, m20 sampai dengan m100 atau ½" npt sampai dengan 4" npt thread.
M20 M25 M32 M40 M50 M63 M75 M90 M100
½" NPT ¾" NPT 1" NPT 1 ¼" NPT 1 ½" NPT 2" NPT 2 ½" NPT 3" NPT 4" NPT

Bagikan: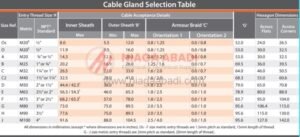 Niaga Abadi Hawke 151 RAC Sizing Chart
The 151/RAC Cable Gland is an industrial gland for indoor or outdoor use, robust and for use with single wire armour, wire braid, steel tape armour,
elastomer and plastic insulated cables. The gland provides a low smoke, zero halogen IP and retention seal onto the cable outer sheath.